Can You Dig It?

Oak-Leyden worked for its second year with Sugar Beet Schoolhouse in their All Ages + All Abilities Garden on the grounds of the Park District of Oak Park's Cheney Mansion. Our Lifelong Learning Center's adult participants learned how to plant and care for herbs, veggies, and much more. Tools, raised beds, seeds, and plants were donated to provide us with a season of learning, sharing, and relationship building.
This year, our garden raised more than 1,200 lbs. of produce, which was donated to the Oak Park River Forest Food Pantry. Check out the media coverage we received from FOX-TV News and Deb's Big Backyard.
CARF and Cavalcade Awards

Oak-Leyden Developmental Services has been awarded the highest level of accreditation by CARF International for our day and residential programs.
CARF accreditation is a public seal of trust and commitment to quality based on internationally accepted standards. Achieving this accreditation demonstrates Oak-Leyden's commitment to exceptional, personalized care. An organization receiving the highest level of CARF accreditation has undergone a detailed peer review process and has demonstrated to a team of surveyors, during an on-site visit, its commitment to providing programs and services of the highest quality.
Kidding Around
As the weather turns to indoor play, drop in for some terrific, free classes!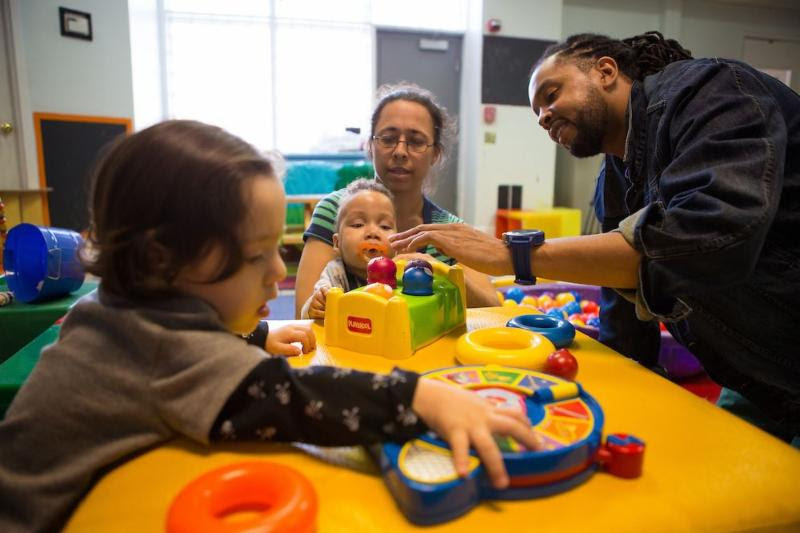 Newborns through five-year-olds of all abilities are invited to make Music Together® through our innovative, internationally-recognized program.
Fridays, December 9, 16, and January 6 at 9:15 a.m.
Oak-Leyden, 411 Chicago Ave. in Oak Park
Mondays, December 12 and January 9 at 4 p.m.
Peekaboo Playroom, 7007 North Ave. in Oak Park
Drop in for our developmental play group — newborns through three-year-olds will have a great time building social skills and learning through constructive play activities.
Wednesdays, December 14 and 21 at 9:15 a.m.
Oak-Leyden, 411 Chicago Ave. in Oak Park
For more information and to reserve your spot, contact Rachel Wood at 708-524-1050 x 107 or rwood@oak-leyden.org.
Holiday Shopping?
Support us each time you shop with just one click, on AmazonSmile. It offers the same items, prices, and discounts as the traditional Amazon site, and allows you to request that 0.5% of your purchases benefit Oak-Leyden.
Oak-Leyden's Volunteers of the Year ~
Katie and David Zapata
The Zapata family of Oak Park was introduced to Oak-Leyden as a provider of Early Intervention (EI) services for their young son, Lincoln. Oak-Leyden became a hub for the family, providing therapies, communicating with private providers, counseling the family on decisions about care, and suggesting resources and techniques to help Lincoln thrive. Lincoln received four therapies a week, attended Oak-Leyden's group sessions, and participated in Oak-Leyden's all-abilities Music Together® program.
Although Lincoln graduated from Oak-Leyden's EI program this past summer, David and Katie continue to offer their energy and resources to support Oak-Leyden, opening new doors for future EI graduates. Katie notes, "Research shows, having advocates for our children is incredibly important for the entire community. We're dedicated to Oak-Leyden, because we've witnessed the impact they make on so many local families, and we know that every dollar we give goes directly to their programming."